Book Presentation: Náo É Isto Um Livro
Nov 20, 2020 @ 3:30 pm
-
5:00 pm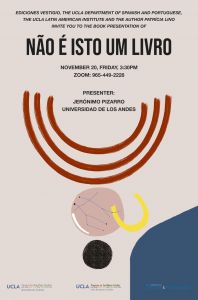 BOOK PRESENTATION: NÃO É ISTO UM LIVRO/ NO ES ESTO UN LIBRO BY PATRÍCIA LINO (EDICIONES VESTIGIO, COLOMBIA 2020)
NOVEMBER 20, 2020, 3:30PM
ZOOM LINK: https://us02web.zoom.us/j/9654492228
Presenter: Jerónimo Pizarro (Universidad de los Andes)
Não é isto um livro/ No es esto un libro collects several of the poems that the Portuguese poet and scholar Patrícia Lino published, performed, and exhibited across five different countries. Published in Colombia in 2020, this anthology and bilingual edition was edited by Ediciones Vestigio and was translated by Jerónimo Pizarro, an expert in Portuguese literature and Professor at Universidad de los Andes. According to the Portuguese critic and literature scholar Pedro Eiras, Patrícia Lino creates new languages. Besides her interdisciplinary work, in which she combines various forms of expressions and media — from videopoetry, music, to performance —, Lino is also the author of poetry that contends with satirical, political, philosophical, and empathetic themes. Her poems are the result of an attentive look at society and at the literary canon and the necessity of questioning, rebuilding, and undoing language.
The event will be held in both Portuguese and Spanish.
 https://edicionesvestigio.com/product/no-es-esto-un-libro/
Bios
Jerónimo Pizarro is Professor at the Universidad de los Andes and holds the Camões Institute Chair of Portuguese Studies in Colombia. He has a PhD in Hispanic Literatures (2008, Harvard University) and a PhD in Portuguese Linguistics (2006, Universidade de Lisboa). He contributed seven volumes to the critical edition of Fernando Pessoa's Works, published by the INCM, the last volume being the first critical edition of the Livro do Desasocego [Book of Disquiet]. Together with Steffen Dix, he organized Portuguese Modernisms in Literature and the Visual Arts, which was published by Legenda in 2011. They also co-edited a special issue of Portuguese Studies (2008) and a book of essays, A Arca de Pessoa [Pessoa's Trunk] (2007). Pizarro was the Editor-in-Chief of two new Ática's series (1. Fernando Pessoa | Works; 2. Fernando Pessoa | Studies), and he contributed with more than ten volumes. Currently he is in charge of Tinta-da-China's "Colecção Pessoa". In 2013 he was the Program Director of Portugal's visit to the International Book Fair of Bogotá and he won the Eduardo Lourenço Prize.
Patrícia Lino (Portugal, 1990) is Assistant Professor of Luso-Brazilian Literatures and cinema at UCLA and the author of Não é isto um livro (2020), Manoel de Barros e A Poesia Cínica (2019), and Antilógica (2018). She recently directed Anticorpo. A Parody of the Laughable Empire (US 2019) and Vibrant Hands (US 2019). She is also the author of the mixed poetry album I Who Cannot Sing (2020). Lino presented, published, and exhibited essays, poems, and illustrations in more than six countries. She was one of the Portuguese poets invited to participate in the 2020 Feria del Libro de Bogotá and in the 2020 Fiesta del Libro y la Cultura de Medellín. Her current research focuses on contemporary poetry, visual and audiovisual culture, parody and anticolonialism, and Brazilian film. She also works as a researcher member at the UCLA Latin American Institute and a collaborator at Instituto de Literatura Comparada Margarida Losa.
To download flyer, please click here.