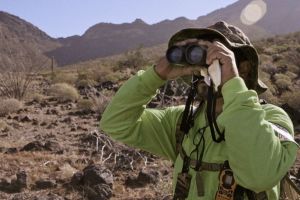 The UCLA Department of Spanish and Portuguese is happy to share with you that Aguilas, Professor Kristy Guevara-Flanagan and Maite Zubiaurre's mini-doc won the Oscar-qualifying Big Sky Documentary Film Festival Mini-Doc Award 2021!
See below for Award Description and Jury Statement:
An Oscar-qualifying event, winners in the Best Short and Best Mini-Doc categories qualify for Academy Award nomination in the Short Documentary category.
Films under 15 minutes in length
WINNER – BEST MINI-DOC
Kristy Guevara-Flanagan, Maite Zubiaurre // 2021, Canada, USA — 14 minutes, World Premiere
Jury Statement: Powerfully encapsulates a complex and ongoing crisis on the U.S./Mexico border, intimately capturing the intrepid work of volunteers, the haunting use of migrant families' audio messages, and the harsh beauty of the desert. ÁGUILAS quietly but effectively calls out the utter absence of government in their endeavor.