Alumni
Our amazing PhD alumni community includes researchers, academics, entrepreneurs, teachers, artists, and more, who are making a real difference across a range of diverse fields.
Join Us and Stay Connected
Lifelong and worldwide, the UCLA Hispanic Languages and Literatures Alumni Network is an invaluable professional and personal resource. Stay connected with friends, colleagues, staff, and faculty and stay up to date on department happenings through our alumni-exclusive listserv. Email the Graduate Advisor to be added.
Get Involved and Give Back
Alumni enrich our community and our PhD program by sharing their time and expertise through lectures, events and more. Please email us if you are interested in participating in panel discussions, book presentations, etc. We want to recognize and celebrate your professional achievements! 
The support of our PhD Alumni, partners, and friends is vital to the continued excellence of our graduate program, enabling us to support students and faculty in our various areas of research, public humanities, and community engagement. Please give today so that we can continue to recruit the very best graduate students, attract and retain the nation's top faculty, and fund the work that keeps us at the forefront of the humanities!
Our Alumni, in Their Own Words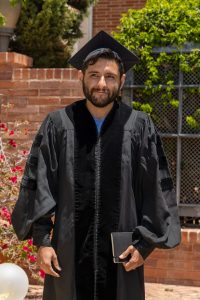 Adelmar Ramirez, Assistant Adjunct Professor, UCLA Spanish & Portuguese Department 
"I am deeply indebted to UCLA for giving me the necessary tools to grow as a scholar and writer."
Audrey Larkin, Assistant Adjunct Professor, UCLA Spanish & Portuguese Department
"I'm grateful to UCLA for helping me grow as an educator and as a scholar."
 Roxanna Colón-Cosme, Assistant Adjust Professor, UCLA Spanish & Portuguese Department
"I am grateful to UCLA's Department of Spanish and Portuguese for the mentorship, teaching experiences, and research opportunities that have furthered my academic growth."