Get Ready For Graduation
Graduating Senior To-Do List
If you are graduating Fall, Winter, Spring, or Summer of this year, this information applies to you. This page will be updated accordingly as the Graduation date approaches.
Declare your Candidacy Term (Degree Expected Term – DET) via MyUCLA: 
You are able to do this on your own by going into MyUCLA and into the "ACADEMICS –> ACADEMIC PROFILE" tab. If you are still unsure about when you will graduate it is OK to not declare candidacy just yet.
2. Attend a Graduating Senior workshop put on by the College of Letters & Sciences
3. Attend our Department workshops. Topics covered are career opportunities, grad school, resume, cover letter workshops, and more!
4. Meet with the Undergraduate Advisor:  
Email the Undergraduate Advisor to schedule your graduating senior appointment to make sure you are on track for graduation this year and get all your questions answered.
5. Make sure you have declared all your Majors and Minors:
If you do not do this, your Majors/Minors will not appear on your UCLA Degree/records/DARS and academic transcripts.
6. Follow the UCLA Commencement & Graduation updates here: https://www.commencement.ucla.edu/
Graduates from the Department of Spanish & Portuguese participate in the Humanities I Commencement. Learn more about this year's schedule and ticketing: https://humanities.ucla.edu/events/commencement/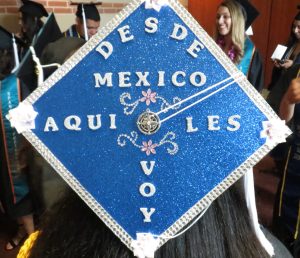 Nancy Valencia, Class of 2019, Outstanding Senior Award and Richard Reeve Essay Award